Big data report on consumption trend during summer vacation
2017/11/03
Recently, Meituan Comments Institute released the "student summer consumption trend big data report" . According to data, during the summer vacation, people who born after 1995 contributed 70% of the total student groups and they become the main force students consumption.
Among them,theme parks and water parks are popular among them.In the case of limited income, students are still willing to pay for dining, entertainment services and experiences, most of whom are in the college career, and they pay more attention to the experience of playing.
According to the report, Shanghai's tantrum alley ranked third in the country, and Shanghai's Maya water park ranked 10th. Its number of rides has become a major factor in the popularity of college students.
It is understood that the Happy Valley in Shanghai introduce 65 meters vertical drop roller coaster "cliffhanger", 1200 meter wooden roller coaster "wooden coaster fireball"and 30 m gap "torrent" dynamic passion rides from the United States, Switzerland and other countries to satisfy young people's demands to release youth and challenge themselves; Shanghai Maya water park introduces four water slide jumping machine speed, magnetic drive water Anaconda "dual water coaster" hornet ", 23 meters in diameter" super big horn "and other water stimulus programs from Canada and the United States to allow young people to challenge themselves and feel the speed.
In addition to stimulating a lot of recreational projects, theme parks and water parks can attract students another reason is to travel together and share the experience of play. Equipment such as roller coaster can make the number of partners at the same time to complete the game and communication timely. Therefore, such projects are popular among students.
In addition, the interesting festival activities also attract the pursuit of the new sense of them. After graduation party, happy valley will launch the annual roller coaster graduation ceremony, high school students' preferential and joyful graduation season and other exclusive activities. At the same time, Happy Valley will be based on the preferences of young people, combined with the current adorable pet, live, VR, stars, entertainment and other new topics, new hot spot to effectively lever the young market in every festival.
Stimulating, fashionable, dynamic theme parks and water parks just meet the consumption idea of "young is happy" , which may be the reason why students recognize them.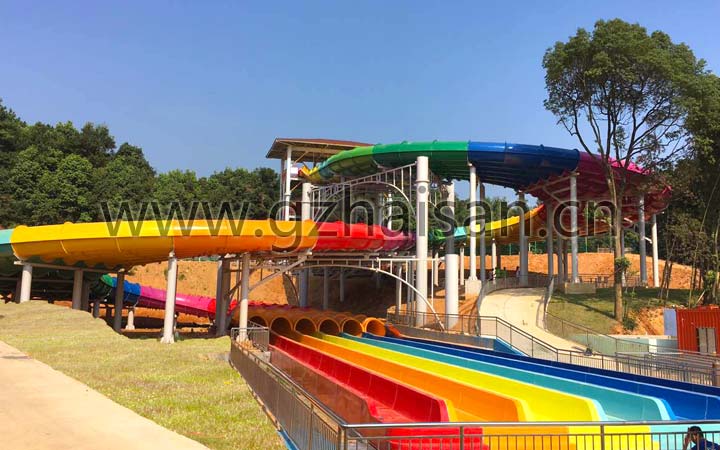 Guangzhou Haisan Polytron Technologies Inc is China's only water park equipment manufacturing which appear in CCTV report "quality" made in China brand enterprises and it had the honor -the development of Chinese amusement industry for 30 years "outstanding contribution award" in March 2017 .
Related News