Is YueHua City the No.1 Water Park According to the Big Data of Meituan
2017/11/16
Hot! Sustained high temperature all parts of the country in the near future has increased the tourists amount of many summer scenic area. According to the data from the biggest group-buying website-Meituan, in summer vacation, various products about water park are very popular with more and more order quantity.
According to the newest order data from the Meituan, when get into summer vacation, the amount of tourists to the water park is increasing sharply, the top 5 order quantity of water parks are Yuehua city.88 ℃ SPA land, Shanghai Maya beach water park, Zhuhai Changlong ocean kingdom, Guangzhou Changlong water park and High heat paradise Bali water world. According to the data, the most common tourists in water park are between 16-35, students and family take a big part of it.
Compared to the famous water park like Changlong, the No.1 order quantity in Meituan is Yuehua city.88 ℃ SPA land which was built last year. According to the official statistics, Yuehua city.88 ℃ SPA land lies in the Yuehua city international holiday resort( Xian) of Jinhe new city Xixian new district in Shanxi province, its a large SPA land theme park in Asia, there are many water entrainment items like big man-made
wave pool
with 3.5 meters wave height, super long drifting river and the most highest human slides projects all around the world, its a new landmark for playing water in the northwest district in China. It is divided into indoor stadium and outdoor stadium with thermal water, the water is warm in winter and cool in summer, so it doesn't influenced by season.
Yuehua city.88 ℃ SPA land is No.2 after the Shanghai Disney Resort in the most popular resort area according to the data from Meituan. The data from reporter showed that Yuehua city international holiday resort( Xian) is the biggest compound cultural tourism eco-city project in the west of China. Holiday resort has many supporting projects like Yuehua happy world, 88 ℃ SPA land, ocean park, film and television base, happy town, international business street and hotel cluster, land theme park Yuehua city. Yuehua happy world, water theme park Yuehua city.88 ℃ SPA land have built successively, its tourists quantity up to millions and millions in recent two years.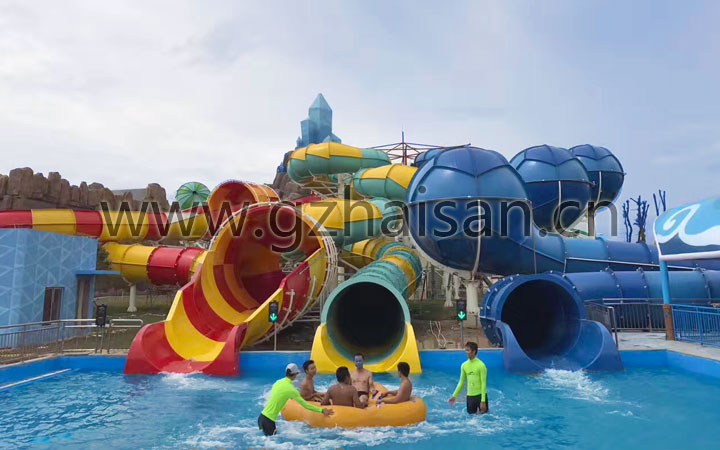 HaiShan Entertainment Science and Technology Co. Ltd in Guangzhou that focus on producing water equipment is the only brand enterprise that reported by "Quality" in CCTV. It gained the most influential honor in Chinese entertainment industry in March, 2017: " Outstanding Contribution Award" in the 30 years' development of entertainment industry.
Related News