We provide four kinds of service: water park consulting and training, equipment performance testing, protection and renovation of facilities, and emergency equipment maintenance and replacement. We are the designated service provider for domestic well-known large-scale water parks like Fuzhou whale water park, Hubei shangchi water park, Qinhuangdao sand water park, and Tai'an water park.
The specific services are as follows:
I. Training and Consulting
1. Operation, maintenance and simple repair training for water park mechanical and electrical equipment and automation system;
2. Emergency training for water park attendants and lifeguards;
3. Water park market promotion training;
4. Maintenance and protection training for fiberglass products;
5. Management training for daily purification and disinfection of water and so on.
II. Performance Testing and Debugging for Water Park Equipment
1. Test and debug the newly installed or reformed slides and wave making equipment;
2. Test and evaluate the surfaces and functional properties for fiberglass products (slide, water equipment) because of theirs placement or long service life;
3. Test and assess the safety of water park products and their accessories destroyed by natural disasters such as typhoons, earthquakes, floods, tsunamis and so on;
4. Test and assess the use condition of special equipment with more than or nearly more than 10 years service life;
5. Improve and upgrade the diagnosis for old districts or districts with poor management;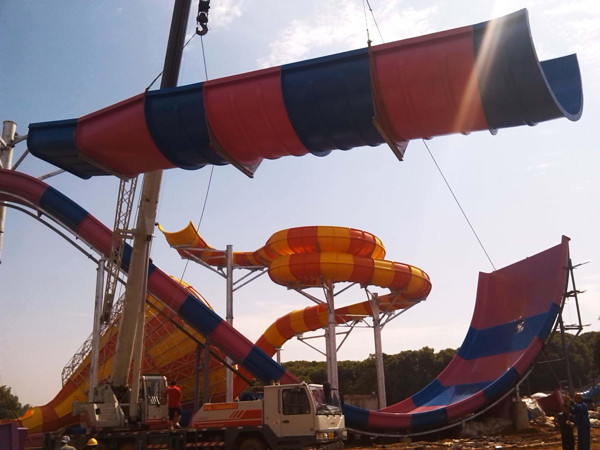 III. Water Park Equipment Protection and Refurbishment
1. Take measures to protect and maintain slides, swimming equipment and pools before the open time in summer and during the close time in autumn;
2. Clean dirt in thermal water or other slides which are easy to form solid object on the surface;
3. For the products with long service life, slides or other fiberglass products with larger abrasion on the surface, take measures to refurbish them;
4. Due to usage time or other reasons, thh water makers, the air pipe and control valve are corroded and the equipment will be affected in operation. Take measures like renovation and anti-corrosive treatment, and the intelligent control program can be upgraded for customers.
5. Do professional anti-corrosion paint and topcoat update for slide steel structure and water house structure;
IV. Emergency Maintenance and Replacement for Water Park Equipment
1. Emergency maintenance and parts replacement for water pump and electronic control system;
2. Emergency maintenance and parts replacement for wave maker and control program;
3. Emergency maintenance and parts replacement for glass and steel products such as water slide and water playing equipment;
4. Emergency maintenance and parts replacement for water treatment equipment and heating and constant temperature equipment;
5. Emergency maintenance and parts replacement for pipeline system and various valves;